Financial operator UAPAY announces the start of a joint promotional campaign with the site-builder Shop-Express. For all existing and new platform customers who do not use the UAPAY payment system yet, the company offers a super-profitable tariff — a commission of 2.3% for each payment made. The tariff will be actual constantly for all those who manage to get connected during the promotion period from April 16 to May 15, 2020.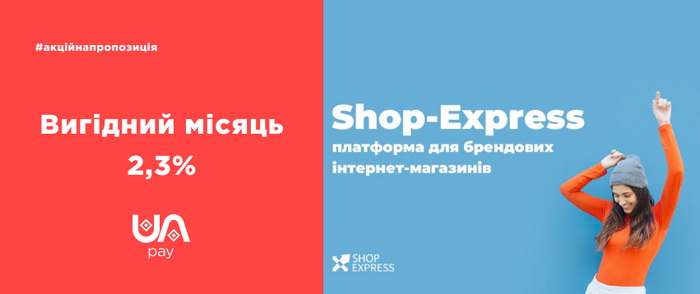 Moreover, we offer a simplified connection system. It is enough to install the module and go through simple registration on our website with the addition of registration documents and signing the contract in electronic or paper form. You will be connected within only one day.
Another advantage of working with UAPAY is electronic document management. Contracts, acts, additional agreements and other documents can be signed with an electronic signature. This significantly reduces the time of signing a standard contract and eliminates any additional costs for paper, ink, and logistics of paper copies. And most importantly, Electronic signature has full legal force and increased security.
The Shop-Express project has been operating since 2013 and is designed to facilitate and reduce the cost of entering the e-commerce market for the Ukrainian business. With this site builder anyone can create an online store with their own domain name, without programming and technical knowledge.
Shop-Express team offers many ready-made design templates, which are distributed in 14 main categories. Custom designs are also available. Among Shop-Express customers are leading Ukrainian and foreign companies.