UAPAY is confidently moving towards its goal: to make the transition of business from offline to online easier, faster and cheaper. That is why UAPAY specialists have developed a payment module for one of the world's most famous cloud-based platforms for building sites — Wix.com. Now, any online store created with this platform can apply innovative and reliable payment technologies from UAPAY for financial transactions with its customers.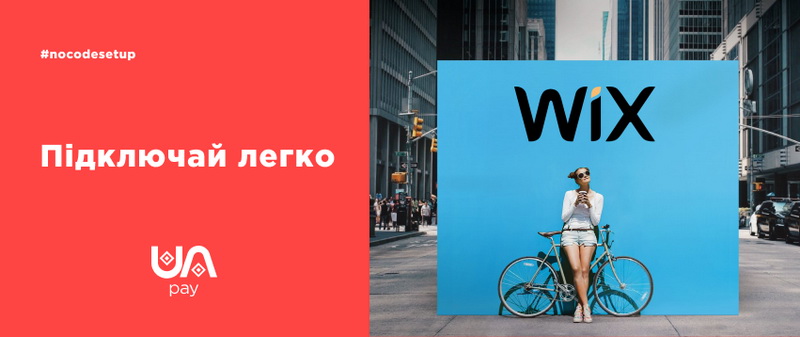 To use the UAPAY payment module, the online store must sign a standard agreement with UAPAY and connect the UAPAY payment method in the Wix personal account, indicating their personal MERCHANT ID and MERCHANT SECRET KEY, which the merchant receives after registering on the Uapay.ua website. Note that it takes no more than one day to complete all the necessary documentation for cooperation with UAPAY. Moreover, this process does not require the physical presence of the merchant — the entire set of documents is sent electronically and signed using an EDS.
The commission for using payment services from UAPAY is only 2.4%, which distinguishes them favorably from other Ukrainian financial services.
Wix.com is one of the world's most famous international cloud platforms for creating and developing Internet projects. The platform allows to build professional websites and their mobile versions based on HTML5 using drag-and-drop method. The functionality of the sites can be extended with applications created by both Wix developers and third parties. Wix operates on a freemium business model, offering the ability to build websites for free and develop them by purchasing useful enhancements.
«We are confidently implementing the previously announced strategy — to adapt our payment modules for all the most popular website builders. Today we are announcing the release of the payment module for the world famous cloud-based platform for building sites Wix.com. This allows merchants to use the UAPAY system as a means of payment for transactions with customers. Thus, thanks to the integration with the Wix.com platform, we are expanding the opportunities for Ukrainian entrepreneurs in the field of e-commerce,» — said Dmitry Zarakhovich, Managing Partner of UAPAY.