The procedure of the fines payment and receiving confirmation of the payment should be quick, easy and convenient. That is why the UAPAY team has developed a service of payment for penalty for traffic violations online through VISA, Mastercard or PROSTIR bank cards.
Paid funds will be transferred to the account of the state treasury the next day. As a confirmation of payment, you receive a check to the email address immediately after a successful transaction.
How to pay a penalty for traffic violations? It is very simple: enter data on the selected type of document, select the penalty that you want to pay, then enter the details of the bank card and confirm the payment. All payments are protected in accordance with PCI DSS Level 1 standards.
The user can check for fines by protocol number, TIN, driver's license, passport or ID-card. By the way, one of the advantages of using the UAPAY system of paying fines is that the user has the opportunity to see all the fines he has previously paid in his personal account.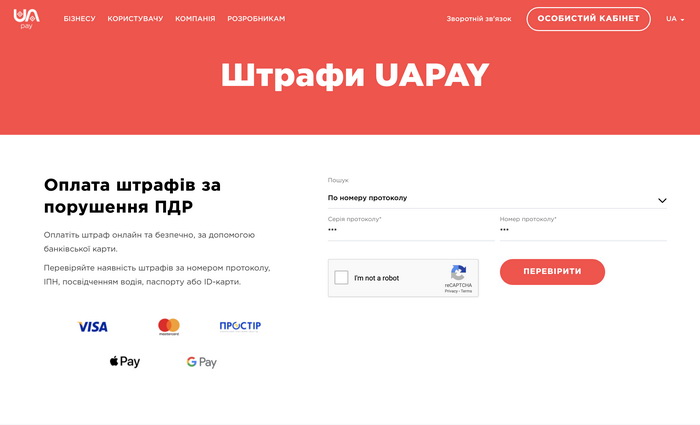 "A few years ago, to pay a penalty for traffic violations issued by the Traffic Patrol Police, you had to go to a bank branch, transfer the appropriate amount of funds, and then provide a paper receipt to the regional service center of the Ministry of Internal Affairs. Fortunately, the country is being digitalized and we at UAPAY are doing our best to use the opportunities of digitalization to improve the quality of life of our citizens. Of course, the fact of receiving a fine is not pleasant, therefore we have created a solution that will help you quickly pay it without unnecessary hassle and loss of time," said Dmitry Zarakhovich, UAPAY Managing Partner.