According to some estimates, the average Ukrainian spends about 400 hours a year on shopping. A significant part of this figure falls on the almost daily purchase of food. But why waste your life on such mundane tasks when they, in addition, expose you to the risk of contacting coronavirus and other infections? Recently, we reported about new project on the OLX platform — courier delivery of grocery sets. Today we can solemnly announce that the project has started: OLX in partnership with UAPAY, Nova poshta and ECO Market launched targeted delivery of food packages for residents of Kyiv.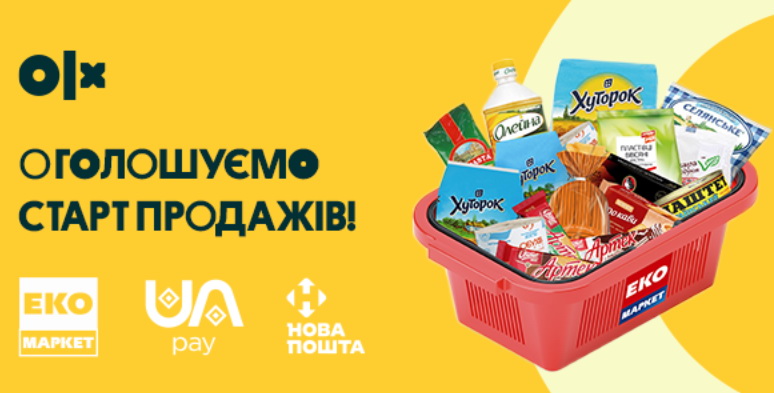 Thus, now you can purchase food packages without leaving your home. To do this, you just need to select a food package on the website https://foodsets.olx-business.com/, indicate the delivery address and pay it online using the UAPAY payment service. Moreover, if the buyer has previously used the OLX Delivery service, his bank card information will be downloaded automatically. Next, the courier of Nova poshta will quickly deliver products to the specified address.
Currently, consumers are offered three options of sets containing the most necessary and popular products at a price of 215 UAH, 289 UAH and 549 UAH. More information on the product list can be found at https://foodsets.olx-business.com/.
«Consumer health and safety are very important to us. In 2017, together with OLX, we introduced the first escrow service in Ukraine — OLX Delivery. Today, together with partners, we are participating in a project to launch a product delivery service. From now, every citizen of Kyiv will have the opportunity to buy safely and save his time,» said Dmitry Zarakhovich, managing partner of UAPAY.